ACHIEVEMENTS AS COUNCILOR AND PRIORITIES FOR ACTION
The first three years of the Council presented opportunities for positive action and stimulated intense debate on zoning, public safety, affordable housing, and budget priorities.
With the help and collective action of groups of residents, my efforts to advocate and propose actions by the Council, Town staff and state highway engineers, have led to enactment of several new bylaws, protecting of voting rights, improved safety on roads in North Amherst, and a beginning foundation for a new public safety workforce.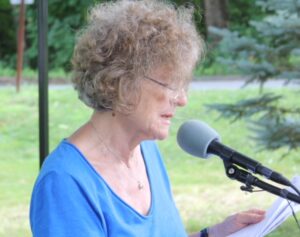 Specific areas where I led or co-led in my position of District 1 Councilor include the following.
Achievements as Councilor Include
Led committee to develop a Percent for Art Bylaw. Enacted 2020
Co-Wrote new wage justice/wage theft bylaws to provide tools to enforce wage, hour, and tipping laws. Enacted 2020
Retained broad voting access by reversing a decision to consolidate all voting in one place in 2020 elections
Advocated to expand the inclusionary zoning (affordable) housing Enacted 2021
Proposed a 6-month moratorium on large buildings downtown to stimulate better designs including set-backs from street, wide side-walks, space for stores.
Initiated a freeze on two police positions to fund an alternative safety/responder workforce.
Secured installation of a new "smart" light at the North Amherst intersection.
Persuaded State engineers to reduce the speed limit on State Route 63/Montague Road.
As Councilor, I have come prepared to meetings, researched potential alternatives and impacts, listened to constituents, and sought actions that respond to concerns. My achievements would not have been possible without frequent contact and discussions with residents, and their collective action and advocacy. This was critical in retaining broad voting access, enacting an expanding affordable housing bylaw, laying a foundation for a new public safety workforce and obtaining a "smart light" and lower speed limit in North Amherst.
In 2020, Co-Councilors elected me to serve on the Elementary School Building Committee. Committee members then elected me Chair.  By November, the Elementary School Building Committee hopes to have selected a designer and begun to intense process of public engagement and working with teachers and parents to design and build a school that garners broad support with a strong educational program and green, "net zero" sustainability.
I also was elected to serve as Chair of the Joint Capital Planning Committee and Vice-Chair of the Finance Committee.  I will draw on these experiences and what I have learned from in-depth discussions of the Town Budget as we seek to address the fiscal and growth challenges and the negative impact of the pandemic on economic health of the Town and Amherst residents.
With the aid of Federal CARES Act funds for schools and the Town, Amherst was able to weather a steep loss in revenues as stores and community services shut down but only with very tight operating budgets for schools and services.  Over the next two years, we have the opportunity to invest new federal aid – some $12 million – from federal stimulus support – to help the Town and residents recover.
This will require careful planning, prioritizing spending on urgent needs, and making decisions based on solid information to weigh choices and consequences.
If re-elected, my top priorities for actions will focus on the following areas.
SCHOOLS
Invest in strong, excellent schools, including preschools.
Our schools are central to the vitality of Amherst and families across a broad income spectrum. During the next two years, the Elementary School Building Committee with be working closely with the School Committee to design and build a new elementary school. With the potential decision by the School Committee to move the 6th Grade to the Middle School, the elementary school project will likely be a consolidation of the Fort River and Wildwood schools to create one school with grades kindergarten through 5th Grade.
The decision on Amherst grade span for the elementary schools with likely be made by the Fall of 2021. In addition to the educational program that other key decision about the new elementary school before turning to its design will be whether the project will be at the Fort River or Wildwood location.
Amherst was accepted into the feasibility phase of the school project by the Massachusetts School Building Authority (MSBA) in early 2021. The MSBA will provide at least half the funds required to build a new school if the project is broadly supported by Amherst residents. Intense work on the design will begin this Fall and continue through the Spring of 2022.
My goal as the Chair of the Elementary School Building Committee will be to support a transparent process with robust opportunity for public engagement and engagement of teachers and parents.  I will facilitate working collaboratively with the School Committee and residents in ways that succeed in bringing the school from design to construction with broad public support.
A new school is an exciting project and an investment in Amherst's future. The school will be designed to be "net zero" with innovative heating/cooling systems that draw on renewable energy sources. The building will thus provide opportunities for education and hands on experiences with climate action and sustainability.
Thinking Longer Term: With the decline in the number of elementary and regional school students, the town is grappling with longer-range plans of how best to use and adjust our classroom capacity. From 2008 to 2019, we lost nearly 1,000 students (down from over 3,200 to 2,380 students). Tight budgets due to the loss of revenue during the pandemic have further placed our schools under stress.
Looking forward, the Council will need to work with the School Committee, Superintendent and parents to have an informed, transparent discussion of how best to reconfigure, finance and support our schools.
We need to expand access to affordable preschool. Assuming we decide to consolidate two schools to have two rather than three elementary schools, Amherst should begin the discussion of how best to use the space of which ever school is not selected for the site of the new school. The space could be used for preschool, for an expanded senior center, for a teen cultural center or more.
Crocker Farm elementary school will also need investment. Even though some of these issues are primarily in the domain of the Amherst and Regional School Committees, fostering a plan to invest in and fix our schools – a viable, affordable plan that garners broad community support — will one of my top priorities and I hope a top priority for the Council. The plan will need to include replacing or rebuilding aging elementary schools, finding resources to support operating budgets, and strategies to expand affordable preschool opportunities.
FISCAL RESPONSIBILITY
Prioritize capital spending by urgent needs while minimizing taxpayer impact.
In addition to schools, Amherst has a backlog of costly infrastructure needs, including a critical need for a new fire station and public works building, and deterioration of roads and sidewalks.
In April 2021, the Council voted to finance $16 million of the $36 million proposed Jones library expansion and renovation. This will result in substantial payments for debt service for the Town's share of the project's cost over the next 20 plus years.  And this assumes the Library Trustees will be able to raise their share of the project costs that is not paid for by the grant.
The projected town costs of a new fire station and DPW building come to at least $35 million.  In addition, Amherst has $12 million backlog of road repairs. And these numbers do not include capital spending to maintain and repair existing buildings and other needs.
With the large building projects in the pipeline, financing the elementary school will require a debt service over-ride.
In the Council's next two years, Amherst will face tough choices to sustain school and Town services operating costs while investing in annual capital needs and paying down costs for bonds for major buildings.
We will need to find the resources to begin implementing an alternative to traditional policing. At the same time we will need to ensure our schools, fire department, and other services have operating budgets that support essential services.
The hope is that supplemental federal and state funds combined with prudent Town policies, will contribute to a robust economic recovery for Amherst and residents.  A revival, could increase town revenues from restaurant and other commercial activity to levels before the pandemic or even increase this revenues.
As an economist on the Finance Committee, Joint Capital Planning Committee, and Council, I have focused on long-term projections of the revenues and costs and obtaining information on alternative choices.  I ended up abstaining on the Library vote because I thought the risks to the Town budget were too high and would make it difficult to support other urgent needs.
Over the next two years, we will need to develop a transparent, comprehensive, long-range plan to focus  on priorities and on multi-year budgets, and to build voter consensus and confidence in the Council's oversight.
Staying closely connected to our State representatives will also be critical. Prior to COVID, I initiated discussions with our representatives on State actions that would benefit local government. I will continue such advocacy as there are new opportunities for action.
Even with additional state support, however, Amherst and the Council will need to prioritize projects based on the urgency and seek to minimize taxpayer impact. Doing so will require asking whether there are less costly approaches that could meet the needs.
Too often, we have voted on costly town capital investments one at a time without learning enough about other projects and without weighing the relative urgency and costs.
To be fiscally responsible and accountable to residents, I will continue to work with Council members and town staff to articulate and publish a ten-year potential action plan to enable informed public discussion. My goal will be to provide residents with information about urgency, timing, costs of alternative choices, and tax consequences in advance. The elementary schools will be my top priority with a phased approach for the fire stations and public works buildings.
DEVELOPMENT AND GROWTH
Ensure development that enhances the vibrancy of downtown, village-centers and neighborhoods.
How we develop, and zoning changes we adopt matter!
The Council has oversight of town planning and zoning by-laws and the power to enact new bylaws. Zoning bylaws are one of the primary public policy tools that we have to guide and regulate land-use. Seemingly small changes can have large, long-lived impacts.
Broadening the tax base with economic development has been a priority. New developments if done with a long-term view can potentially contribute to the vitality of Amherst, provide new affordable housing, and moderate the financial burden of current property tax payers while protecting our open spaces, farms and environment.
But we need to proceed in ways that enhance and build on the historic and educational assets of Amherst, strengthen our Amherst community, and celebrate or small town, quasi-rural quality of life.
People move to Amherst seeking small-town charm, open-spaces, excellent schools and cultural events that would be rare in a town of our size without our colleges and university. To expand the town's commercial tax base and nurture its cultural vitality, new development has to be physically attractive; it has to draw people to down-town and village centers; it has to include public spaces and sidewalks wide enough to meet and walk; and it has to support new businesses while sustaining existing ones in town.
Realizing these goals requires paying attention to the designs and scale of new developments, and the impact of more intense development on other municipal services. Parking clearly needs to be a top priority. It is a lifeline for our downtown businesses and community.
However, recently proposed zoning changes have emphasized density and growth without incorporating the broader vision and elements of planners that advocate "smart growth" and sustainability. Such efforts emphasize the importance of set-backs from the street for wide sidewalks and public spaces; providing space for retail and commercial in downtowns and village centers; ensuring that new multi-family housing includes open green-space; and that developments occur near public transit or provide easy access to food, services, and other necessities.
Climate/Sustainability: Recently, zoning codes in other cities and towns have also required that new development, private as well as public, invest stronger "green" sustainability building standards to address climate change.  Amherst has not yet incorporated such climate action codes.  I support joining leading communities to address climate change requiring renewables and energy efficient buildings.
Affordable Housing: The growth of the UMass student population without similarly rapid growth of housing on campus has resulted in a loss of affordable homes in neighborhoods for families and longer-term residents. Despite rapid growth of new apartment buildings, the high rents charged per bed, have put the apartments beyond the reach of moderate and lower-income workers and families.
This year, the Council enacted an expanded Inclusionary Zoning bylaw that will require all new multi-unit buildings with 10 or more units to provide a share of "affordable" units. This means rents will be lower for those qualifying based on incomes that are below average. This is a step in the right direction. But more will need to be done – including keeping the pressure on UMass to expand its student housing supply.
Zoning Changes are Long-Lived.
Zoning changes have the potential to reshape Amherst with long-lived impacts. Proceeding with caution is essential to devise positive development strategies and work with local businesses to ensure that economic development adds to the economic, cultural, and social life of Amherst and provides affordable housing.
We know from other towns' experiences that thoughtful and creative planning, zoning and design policies can enable growth and development in ways build on a town's assets and strengthen the vitality as well as diversity of towns.
To assure thoughtful, strategic development, I support assessing and changing our zoning by laws, with attention to height, side-walk width, building set-back from the road, upper floor step-backs (third floor starts further back), parking, and affordable housing. We have to make explicit the cost of additional parking and cost of town services (water, roads, sidewalks, fire/police" ask developers share in these costs.
The Council will also need work with the Town Manager build on and expand efforts to forge partnerships with our two colleges and UMass that more equitably share the costs of sustaining Amherst municipal services and schools. The colleges' and university's tax-exempt status renders sixteen percent of Amherst's land nontaxable. Updating agreements to address pressing Amherst needs could ease burdens on residents and businesses and support capital spending on schools, roads, parking and public works.
QUALITY OF LIFE
Improve support for our community's quality of life and diversity.
Quality of life: We need ways to get around safely – including pothole-free streets, sidewalks and safe intersections. Streets with better bikeways and bus service could also reduce the number of cars downtown and in village centers.
Affordable housing: Affordable rents for low- and moderate-income families preserve diversity and make it possible for employees who work in the town to live in Amherst. I supported and advocated for the expanded Inclusionary Zoning bylaw that will help increase the supply of units available to low income individuals and families with any large developments.  I further support making affordable housing a priority for long range planning and support of Amherst Municipal Affordable Housing efforts to act on this priority.
Seniors: The number of Amherst residents who are 65 or older is increasing and approaching the total number of children under the age of 18. As a college and university town Amherst will continue to attract retirees. This is also a great town for healthy aging as long as we assure transportation and support services, including an expanded Senior Center and services for the home-bound.
ENERGY/ENVIRONMENT
Make Amherst more ecologically sound, for the future of the planet.
I support Amherst's zero-net energy by-law that applies to new municipal buildings and will support efforts to extend this to new private developments Further, I am committed to initiatives that will reduce fossil fuel consumption and foster renewable, sustainable energy.
As a result of successfully applying to be in the pipeline for support by the Massachusetts School Building Authority (MSBA) we have the opportunity to build a new elementary school that meets our net-zero code. This means that it will be a model of well insulated construction, have daylighting throughout, use electric rather than fossil fuels for energy, and it will generate energy from renewables to offset the school's electric costs.
We could do more in Amherst by expanding zero-net energy design to major library and private developments, and solar to new homes. I also support Amherst joining with other towns to aggregate electric purchases in a multi-town community energy initiative (Amherst-Northampton-Pelham). This would pool community electric purchases to draw on and stimulate solar and renewable energy sources.
The Energy and Climate Action Committee (ECAC) established by the Council under the leadership of Darcy Dumont, has begun to provide and will continue to provide recommendations for potential actions that would address Amherst's climate action goals.  With tight budgets, implementing the policies will likely require support from grants and collaborative work with surrounding towns.
Other initiatives include: promoting solar installation, including municipal and community solar on school and public parking lots and replacing fossil fuels as a source of heat in town buildings; strengthening regulations to reduce vehicle "idling" – this could include higher penalties and a "finders" fee such as the used in New York City where citizens receive a share of the fine ($300) for reporting and documenting idling beyond 3 minutes (tougher than the MA law.)   A penalty – ticket – for idling and a means of prevention such as citizen reports could avoid consuming police enforcement time.
I included such ideas in response to a questionnaire by the Massachusetts Sierra Club. My replies in addition to my family's long support of the Sierra Club resulted their endorsing my candidacy. I am honored to be the only candidate endorsed in District 1 in 2018.
ADVOCATE FOR NORTH AMHERST
During the past three years, I have been fortunate to have the active support of residents of District 1 in North Amherst. Through collective efforts, we were able to get the Town to install a "smart" light at the dangerous intersection by the North Amherst Library.  With a petition from residents along and adjacent to Montague Road, plus I letter I wrote making the case the speed was too high, we succeeded in convincing State engineers to lower the speed limit on this state road.
The support of multiple residents in North Amherst was also  instrumental in helping me take the lead to reverse a decision to consolidate all polling places into one site in the 2020 elections.  And regular pressure from residents and District 1 Councilors helped secure a smart light, with turn signals, at the intersection by the North Amherst Library.
I commit to being available, listening closely, taking the time to research issues and options, and working with residents on issues of shared concern. Collective action, not the voice of just one person, will be essential.
Looking forward, I will continue to be a strong voice for our North Amherst community, including our farms, neighborhood safety, sidewalks, intersections, speed limits and potential zoning and new developments.